Softcore untd.
Softcore untd.
Gi meg tid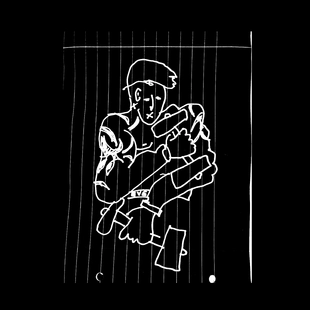 Softcore untd.
Gi meg tid
After signing with Cascine last year, Nordic come-ups Softcore untd. unveil the new single 'Gi meg tid'. The title is Norwegian for "give me time." Andreas Høvset (aka Charlie Skien) of Softcore explains, "The song is influenced by winter depression and reassessing a bunch of life choices. It's about getting tired of the safe routines and the same buildings you see every day. I wrote the lyrics while I was in a cabin in the mountains and that stark, natural environment is reflected in the vibe of the song."

With lyrics sung in their native Norwegian, Softcore untd. combine house, hip hop and experimental productions with undeniable fluidity — a precarious feat made effortless on the strength of raw talent and delivered with the confidence of youth
Softcore untd. is Emir Hindic (of Sushi x Kobe), Mathias Humlen (aka FAKETHIAS), alongside Andreas Høvset (aka Charlie Skein) and Vetle Junker from the band Verdensrommet. The collaboration started in 2015, when Hindic saw Verdensrommet perform at a festival and approached them afterward, asking if he could add a verse on one of the band's tracks. They agreed, and after finding a natural chemistry in the studio, a new collaboration began to take shape.
"We had a lot of songs that didn't fit into any of the bands and projects we were playing with at the time," says Høvset. "They were too soft for Sushi x Kobe and didn't feel right for Verdensrommet either, so we figured the best thing was to start a new act entirely."
In 2017, the group released their first single as Softcore untd. 'Skolebenken' was a mixture of Verdensrommet's melodic guitar chords and the hard hitting percussion parts from Sushi x Kobe and FAKETHIAS. After releasing a second single, 'Fjern', they began consistently selling out shows in Bergen and Oslo, and were tapped for local performances with Princess Nokia and at Norway's by:Larm Festival.
Cascine first encountered Softcore in 2017 at one of their hometown shows — in a packed Bergen venue, with the boys on stage like baby vipers, performing songs that rolled around in our heads for days to follow. The next year, Cascine signed Softcore untd. to the label to release the standout singles 'Sjansespill' and 'Mye mere.' These propulsive tracks served an preliminary introduction of Softcore untd. to North American audiences, illustrating the group's raw energy and talent.
Based in Bergen and Oslo, the group is steadily working on new material with plans for a debut EP to be released in 2019. 'Gi meg tid' is out February 8, 2019 on Cascine and Eget Selskap/Vibbefanger.